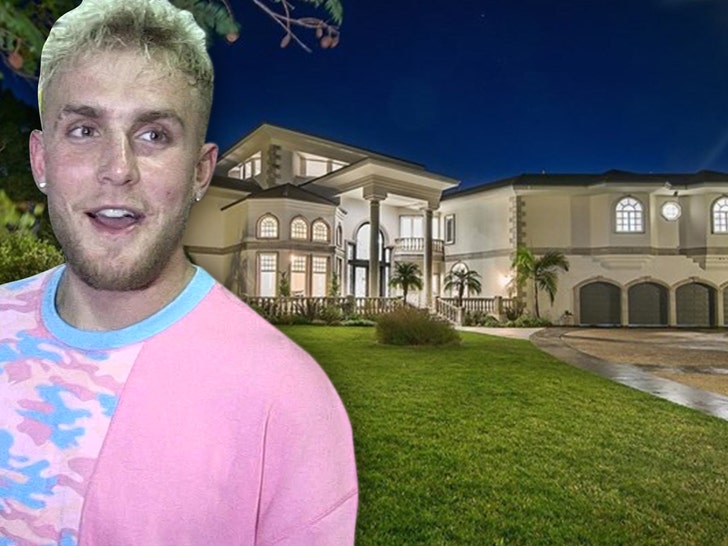 Exclusive
Jake Paul is making good on his promise to move out of Los Angeles to focus on boxing … he just put his Calabasas crib up for sale.
Real estate sources tell TMZ … Jake wants $7 mil for his 3.5-acre estate, which gets you 8 bedrooms and 15,045 square feet.
The mansion is decked out with a three-story entryway and spiral staircase … plus an office, theater, wet bar and gym.
Of course, there's the obligatory Cali pool and spa with some pretty cool accents … 2 waterfalls, a grilling area and patios with sweeping views of the canyon.
So, what to do if you want to replicate Aaron Spelling's mega-mansion but only have 15,000 feet of living space? Well, there's enough land to build a second, massive structure. And, there will be plenty of room to park … the driveway can handle 20 cars.
As we reported … the YouTube star and undefeated boxer announced last month he was fleeing the distractions of L.A. to focus on becoming a boxing champ. Jake's eying Miami for the move … it's a good town for boxers.
Jake's former neighbors will be looking forward to a new occupant … he was pretty famous for pissing off folks with his wild parties and YouTube shoots.
TMZ broke the story … the property was the scene of an FBI raid last year, when agents in armored trucks stormed in with a search warrant and ended up seizing some weapons. It's unclear what's come of that.
"Million Dollar Listing Los Angeles" stars Josh and Matt Altman have the listing … they repped Jake back in 2017 when he bought the property.
We reached out to Josh and Matt, who had no comment.